The Ultimate Guide to Choosing a Wetsuit
Everything you need to know before buying a wetsuit
A wetsuit is one of the most important pieces of kit for any watersports enthusiast. Made of stretchy, insulating neoprene, wetsuits keep you warm thanks to bubbles in the neoprene that trap warm air, and thermal linings then amplify the insulation by creating more trapped air next to the skin.
However, that doesn't mean you won't want a lightweight wetsuit in the summer too. Even when it's warm outside, you can lose body heat quickly when you're in cool water, so it's important you're wearing something to keep your core warm. As well as keeping your body temperature up, the extra layer will help to protect you from scratches, bruises, wind-chill and harmful UV radiation. The air bubbles in the neoprene also give you a little extra buoyancy too!
So yeah, knowing how to choose a wetsuit that is right for you is kind of a big deal.
Deciding what features are right for your needs, and choosing between so many incredible options can be tricky, especially if you're buying your first suit. Luckily, matching people up with the best wetsuit for them is our area of expertise, so we've put together this simple, step-by-step wetsuit guide with everything you'll need to know when making your decision.
---
---
1. What thickness wetsuit do I need?
Thicker neoprene is warmer, but it's also less stretchy. Wetsuits come in different combinations of thicknesses, measured in millimetres, and visible in the wetsuit's description as one, two or three numbers.
The first number listed, X, refers to the neoprene thickness around your core, where you need the most insulation. The next number(s), Y and Z, will refer to the thickness on your arms and legs, where you'll want more flexibility and won't need as much insulation, so you'll benefit from a thinner neoprene.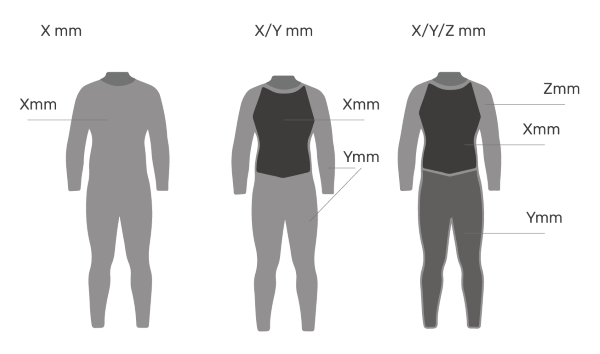 What you need will depend on where (and when!) you plan to use your wetsuit.
As a starting point, check the average water temperature at your favourite surf spot at the time of year you plan to get the most use out of your new suit, and choose the option in our wetsuit temperature guide that matches up best.
18-24°C

12-18°C

9-12°C

6-9°C

0-6°C
1-2mm Shorty Wetsuit

Thinnest option available.
Super lightweight and stretchy, so no paddle exhaustion or overheating.
Great for keeping off windchill on early summer mornings and also offers UV protection.
Available in a mix of long-sleeves, short-sleeves, sleeveless, full-legged and short legged options.
A pair of boardshorts and a neoprene top or rash vest work as an alternative when it's really hot.
You won't need boots for warmth in these conditions, but a lightweight pair of 1 or 2mm reef boots will help protect your toes on rocky beaches or reefs.

3/2mm Full Wetsuit

Our most popular style of wetsuit.
Most versatile option for the UK, great for seeing you through summer and early autumn. If you will be wearing it into autumn then opt for a wetsuit with blindstitch seams rather than flatlock, to avoid cold water getting in.
Perfect for those new to watersports who need a reliable all-rounder.
3mm thick around the core, and 2mm through the arms and legs.
Full coverage but lots of flexibility to move about in.
Some of our 3/2 wetsuits also include a thermal lining to keep you warm further into the autumn. Find out more about linings.

4/3mm Full Wetsuit

For cool to cold water surfing.
Best for keeping you on the water through autumn in the UK, as well as getting you through the transition from winter to summer.
4mm around the core and 3mm on the limbs, it's warmer than a 3/2 and will provide better protection from windchill on a breezy autumn day.
For these temperatures, you'll also want to be looking at getting a pair of boots and gloves to go with your suit.

5/4 or 5/3mm Full Wetsuit

For anyone keen to surf through the UK winter, this is an ideal winter wetsuit thickness.
5mm around the core, 4 or 3mm on the limbs.
Well worth opting for a lining as well, available on most of our mid-range to premium wetsuits.
Boots and gloves are a must.
A wetsuit hood is also a good idea.

6/5mm Full Wetsuit

For those who chase winter swells, particularly up in Scotland and beyond.
A toasty 6mm of neoprene around your torso, and 5mm on your limbs – you'll be snug as a bug in one of these.
It's worth noting that a thicker wetsuit will be slightly less flexible, but it's better than being cold!
Boots, gloves and a hood are a must have for these conditions.
Once you've matched up the best option for the water temperature, choose whether any of the below considerations apply, in which case consider adding 1mm to the wetsuit thickness suggested:
The weather: If it's particularly windy, you'll need a thicker suit to protect you from the windchill.
Changing seasons: The water temperature is warmest at the beginning of autumn, but the air temperature will be dropping at this time too, so you'll find yourself feeling colder out of the water. At the beginning of Spring, even though the weather is getting warmer, water temperatures are at their coldest.
Personal preference: If you know you usually get cold quicker than your friends, don't shy away from getting a thicker wetsuit.
---
2. What size wetsuit do I need?
If you don't already know your measurements, follow our wetsuit measuring guide.
Not all brands use the same sizing, so once you've chosen your wetsuit and know the brand, it's important to cross-reference your measurements with the relevant wetsuit size guide, which is available on each wetsuit product page. You can also compare sizes from some of our most popular wetsuit brands.
Not sure how tight your wetsuit should be? When your wetsuit arrives and you try it on, it should fit you like a second skin. You should be able to bend down and touch your toes (or as far as you can normally reach!) and have a full range of motion through your arms and shoulders. However, you also don't want your suit to be baggy anywhere, as it will allow cold water to continuously run through the suit (this is generally referred to as flushing).
---
3. Which wetsuit entry system is right for me?
The entry system is simply the style of zip on the wetsuit. It affects how easy it is to get the wetsuit on and off, and the flexibility on the upper body, as zips don't stretch. Deciding which one is right for you mainly depends on balancing durability and ease of getting your wetsuit on, with how much flex you require across your shoulders. Professional athletes will require the maximum amount of flex in order to push themselves to the limit, whereas casual surfers and beginners might choose to prioritise durability.
Back Zip

Chest Zip

Zip-Free
Back Zip

The traditional style of zip that goes straight down the back of the suit, with a long tag on the zip so you can zip it up and unzip it without needing a mate there.

Popular in entry level suits and with those new to surfing. Back zips can also be the better option for broader people, as the top half of the suit fully opens up, giving you more room when you're putting it on.

PROS: A back zip wetsuit is the easiest to put on and off.

CONS: A back zip is the longest style of wetsuit zip, and can inhibit the stretch of the suit across your back and shoulders, where you often need the most flex. It is also more prone to flushing (water entering the suit), so you may find yourself getting cooled down from time to time.

Chest Zip

Probably the most common style of zip now, available across a wide range of suits.

A short, horizontal zip across the front of the wetsuit, attaching a panel which goes over your head.

PROS: More flex in the shoulders, and less flushing due to the length and positioning of the zip.

CONS: A little trickier to get into than a back zip suit, but don't worry, there's a knack to it!

Zipperless / Zip-Free

This style of wetsuit seals by having fitted, overlapping panels act as a seal, instead of a zip.

Predominantly for performance and competition wetsuits.

PROS: The minimal amount of flushing and the maximum amount of stretch.

CONS: Not as durable as wetsuits with zips due to the amount of stretching required each time you put it on. Requires a bit of wiggling to get into, but you quickly get the hang of it.
---
4. Which type of seams should I look for?
There's more to seams than just holding your wetsuit together, as the seams are the most likely areas on the suit to:
Let water in - because stitching involves making tiny holes in the neoprene, it can cause leaks, depending on the method used.
Restrict your movement - as seams are the second least flexible part of a wetsuit (after the zip), less seams can mean more flexibility, but more seams (meaning more separately cut panels of neoprene) will generally offer a better fitting wetsuit.
So, if you're needing maximum flex or are somewhere cold, you'll want to pay attention here.
Flatlock Seams

Blindstitch Seams

Taped Seams

Sealed Seams
Flatlock

This method involves laying the edge of one panel over the other and stitching through them both. It creates a durable seam with some flex, but also a lot of holes through the neoprene which can leak. This means flatlock seams are generally reserved for summer wetsuits.

Blindstitch

You'll see blindstitch featured on high-end and winter suits, as it ensures minimal leaking, better flexibility and the best durability out of all the options. It's often listed as Glued Blind-Stitched, or GBS, because the edges of the panels are glued together, end-to-end, before stitching. Then, the stitch only goes part of the way through the neoprene, not fully piercing the panels, resulting in a solid, watertight seam.

Taped

This is where stretchy tape has been applied on the inside of the seams to make them more watertight and durable. It acts as an extra barrier against water getting into your suit. Strategic taping means it has just been applied to the high-stress areas, whereas fully taped means every seam has been reinforced.

Sealed

Liquid rubber is poured over the seams to full waterproof them, on some suits this is done on both the inside and outside of the seams. You'll also see it referred to as 'liquid sealed', 'fluid sealed' or 'welded'.
5. Do I need a lined wetsuit?
What is lining?

Do I need one?

Which one is right for me?
A lining is an extra insulating layer on the inside of a wetsuit, mainly found on mid-range to premium suits. The lining materials used will still be stretchy and lightweight, as well as water-repellent and fast drying, so you don't end up with heavy, soggy fleece against your skin.

With advancing wetsuit technology, different brands are coming up with their own lightweight, super insulating linings to better retain heat without the need for thicker neoprene. This is a great feature to have on a wetsuit because thinner neoprene equals more stretch, and if you're surfing in cold water, it will really make a difference.

When it's cold, a lining is a great addition to your suit, adding more warmth without having to sacrifice the flexibility of the wetsuit. However, that doesn't mean you'll always want a lining if it's available to you. Though these materials are getting lighter and more flexible, for warm weather surfing you just won't need one, and for competitions or the more active watersports, the flexibility should be valued over the extra insulation, as you'll keep yourself warm enough just moving.

If you do opt for a lining, it's worth noting that the area covered by it on each wetsuit will vary. Essentially the more you're willing to pay, the more coverage you'll get, and if you're regularly surfing winter swells, it's worth the upgrade. Some wetsuits won't have a lining at all, such as entry level or summer suits, whereas some wetsuits will be fully lined (1), some just the legs and torso (2) and some may just have a single panel on the front (3), to better protect your core.

With most surf brands constantly innovating and refreshing their designs to create lighter, warmer and higher stretch linings, there are a lot of incredible options available.

Here are a few of the options to look out for:

Rip Curl Flash Lining

Includes two engineered layers that funnel water rapidly out of the suit. Extremely warm and comfortable.

Billabong Graphene Lining

Uses graphene wrapped yarns which trap and retain heat more efficiently than traditional hollow fibres, whilst being 50% lighter.

O'Neill TechnoButter Firewall

Slightly insulating, but highly hydrophobic, keeping a minimal amount of water in the suit. This keeps you warm without the need of a heavier, fleece lining.

Mystic Fox Fleece Lining

Soft, smooth and super warm, with big loops in the fabric, creating a high pile lining that holds lots of air for extra insulation.

GUL Bolt Dry X Lining

A thermal, quick-dry core for ultimate warmth.

Prolimit Zodiac2 Lining

A fast drying, insulating layer that also wicks moisture away from the skin to keep you feeling dry and extra warm.

Xcel Radiant Rebound Lining

Uses a metal lining under the textile to block the cold from penetrating the outer layer, and reflects body heat back onto the wearer.
---
6. When should I wear accessories with my wetsuit?
Once you've chosen your wetsuit, it's important to get the right accessories. This will enable you to upgrade your suit with the seasons if you're on a tight budget, and keep your kit flexible in changeable weather.
Boots

When the temperature drops, neoprene boots are great for keeping your toes toasty, with lined and unlined options available up to 8mm thick to keep you in the water for longer.

Thickness

This depends on both the water and air temperature, as well as your personal preference and how easily you get cold. In general, you want to go for the thinnest pair of boots you can get away with, to have the best amount of movement and feeling. As soon as you're finding it too cold to surf barefoot, a pair of 3mm boots are a great starter option. As the temperature drops further though, you'll need thicker neoprene to keep feeling in your toes.

As a rough guide:

3mm: When you first find it's too cold to surf barefoot
5mm: Autumn, winter in the south of the UK
7mm: Deep winter, and for those who surf in the north of the UK and beyond

Boots in the summer?

However, it's not just about warmth. In some places where the beach is rocky or you'll be surfing on a reef, a lightweight pair of reef boots will be your saviour. The rubber sole will protect your feet from cuts, sea urchins and any other nasty things lurking in the water.

Style

Another thing to look out for is the style or shape of the boot. The main options you'll see are round-toe or split-toe.

Round toe boots look exactly as you'd expect, like a normal pair of boots with all of your toes together, which keeps them generally a bit warmer.

Split-toe boots are designed so that your big toe is separated from your others, kind of like a mitten for your foot. It will give you better balance and grip, compared to round toe boots, but your big toe can get chilly being all on its own.

Gloves

Gloves and mittens are another worthwhile investment for our winter warriors. Neoprene gloves are available in a range of styles, both lined and unlined, and with different thicknesses, so we know it can be hard to choose.

Thickness

When choosing glove thickness, it's the same advice as we give for boots. As thin as you can for optimum movement and feeling, without your hands getting cold. Upgrade if you know your hands get cold quickly.

Style

Wetsuit gloves are available as standard 5-finger gloves, 3-finger or even mittens.

Mitts tend to be the warmest, but you obviously sacrifice a little dexterity by having your fingers wrapped up together.

Standard 5-finger gloves will give you better movement in your fingers, which is useful if you've forgotten to attach your leash before putting your gloves on.

3-finger gloves (sometimes called lobster gloves) give you free use of your thumb and index finger, but will keep your other three fingers wrapped up warm together.

Hoods

Getting brain freeze whilst trying to surf is not ideal, but a hood or a neoprene beanie will protect your head and ears from cold wind as well as the water.

Neoprene beanie

Ideal for in between seasons, when your head's getting chilly but you don't quite need to commit to a full hood. In heavier surf neoprene beanies can get washed off your head, so a hood or cap that goes under chin is recommended.

Separate hood

An easy way to flexibly upgrade your wetsuit for winter. A hood covers your entire head except for your face, keeping your ears and head nice and snug. Having a separate hood makes it easy to chop and change depending on the weather, but it can leave you with a gap between your wetsuit and your hood which can let cold water in.

Integrated hood or hooded wetsuit

If you plan to exclusively surf in the cold, buying a wetsuit with a permanently integrated hood is a good idea. You don't need to worry about losing it in the back of your car or forgetting it at home – it's always there. It also will stop any water leaking down the back of your neck. The main downside is if you ever want to surf without a hood, as it's annoying to have it just hanging off the back of your suit when it's not being worn.
---
After going through this guide, you should know everything you need to in order to choose the perfect wetsuit for you. All that's left to do is shop wetsuits...
Your browser is extremely out of date. We strongly recommend that you try a different browser for the best experience when using our website. Close.